Empowering the younger generation
Kids Church is for ages 0-11 years old and meets every Sunday during all services, across our physical locations.
WELCOME TO KIDS CHURCH!
The safety and security of your child in our care is our primary focus, so our registration and check-in process reflects that. On your first visit head to the Connect Lounge where one of our Kids Team will be there to help you register and sign up for Kids Church. You will be asked to provide your contact details and any information regarding special requirements your child may need. We have an SMS system in place should we need to alert you during the service. The details and information collected will be stored in our secure database to facilitate our electronic check-in and check-out system. All of our volunteers in Kids Church pass safeguarding and DBS checks before joining the team.
Once registered your child will be allocated to a Kids Church group based on their school year. Walking to Preschool stay with parent/guardians until after the worship. Reception to Year 6 can be checked-in before the service starts and have a program that runs throughout the Sunday service.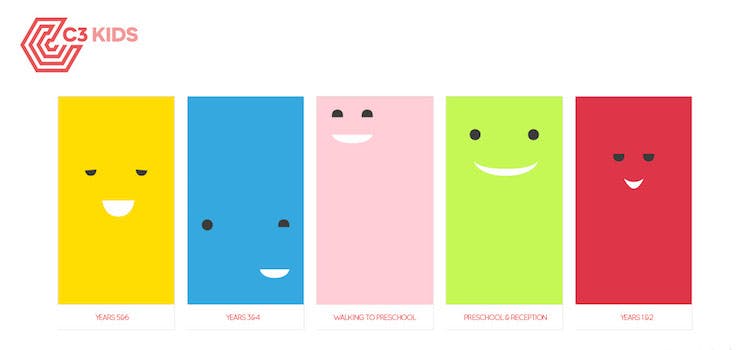 Every Sunday service also offers a Parent & Baby Live Link where parents can enjoy a tea or coffee on the sofa whilst watching a live link of what is happening in the auditorium. The room has a range of baby toys and mats so both guardian and child can enjoy the service in a smaller and less overwhelming environment. It is also a great place to meet other people in the same stage of life as you.
We want to empower and equip kids as best we can, to explore their faith in a fun and engaging environment. Kids Church at C3 is full of great teaching, worship, fun team games and, creative craft activities.
We also use the free YouVersion app, to develop your family discipleship journey with bible studies and discussion questions that are kid-friendly and linked to the lessons from Sunday. We want to encourage faith conversations around the table and give you the tools to be instrumental in growing your kids' relationship with God!
C3 KIDS IN THE CITY
C3 Kids is not just about Sundays. We love building relationships with schools and community projects throughout the city. We can host school assemblies, RE lessons or mini-services for a class, for more information or to organise an activity with us, contact us: kids@thec3.uk.
Keep in touch with us on Facebook and Instagram, but if you have any questions we would love to hear from you. You can get contact our team directly by filling in the form below: